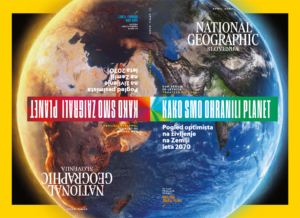 Today, April 22 we celebrate Earth Day. We are celebrating it for the fiftieth time in a row. On this occasion, we designed the magazine National Geographic Slovenija* with two covers, and in it we wonder what kind of world the descendants will live in in 2070, on the 100th anniversary of Earth Day.
Will we work together to address the effects of climate change and prevent the extinction of plants and animals – or will we still not take climate change seriously enough, with serious, irreparable consequences for people and nature? Let today inspire you and encourage you to take a more responsible attitude towards the world.
More in our April issue. The printed edition is available at points of sale, and the e-edition here.
*Rokus Klett is the publisher of National Geographic Slovenija. The magazine has been published in Slovenian since May 2006.